HOME PAGE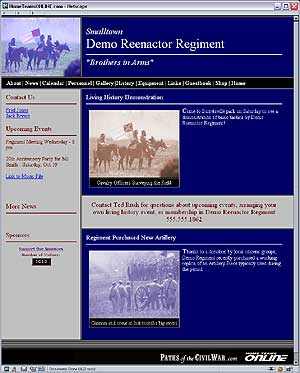 Create a tailored home page with your own logo and your choice of colors! NEW - you can choose your own text style (font) to give your site a personal touch.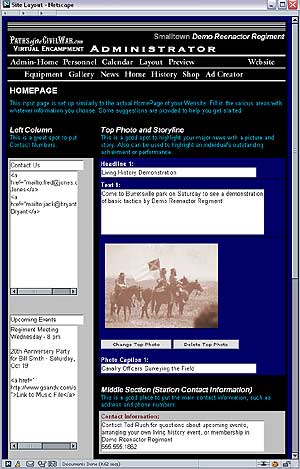 The Editing section for the homepage is organized like the actual page, making set up easy.
NEWS

CALENDAR AND EVENTS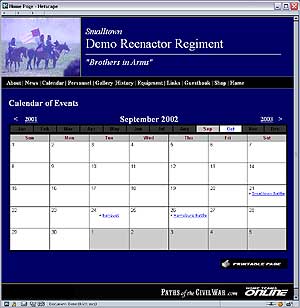 A built-in calendar can be printed in black and white by clicking our "Printable Page" icon. Click on the event to see a detailed description.
PERSONNEL PROFILES (ACTIVE AND HISTORICAL)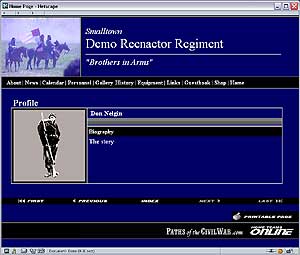 Members of your group each have a profile page with facts and a biography. Plus you have sections for your active reenactors as well as a tribute to the real men and women in your organization who made history. A default image is shown here, but you can easily post a photo.
PHOTO GALLERY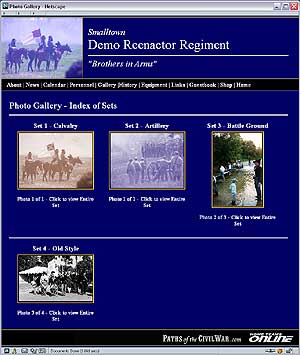 You not only can post photos - you can organize a whole photo gallery! Each photo shown above links to a different gallery when you click on it. Keep a separate gallery for every event. Post maps and historical photos.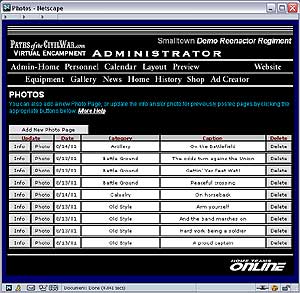 Here's how your photos are listed for the website administrator - just click a button to update, delete or add a new one. Plus, there are extensive help menus on every page - but you probably won't need them!
GUESTBOOK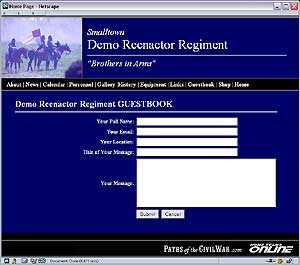 Visitors can show their support by posting notes in your guestbook using a simple form.
ONLINE SHOP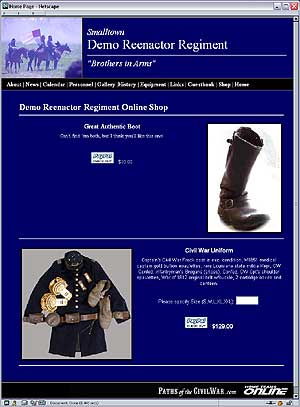 Our "GOLD" website adds an easy online store. You can even add a custom "option" entry for different sizes, colors or styles. You just can't find an easier way to create an online store! A nice way to collect fees or manage ticket sales.
PLUS MANY MORE FEATURES...

We didn't even mention the HISTORY section, which can be organized by topic or by chapters, with room for as many articles as you need. Plus a photo can be added to each one!

You also get a NEWS section (with room for photos of course), a LINKS page, an ABOUT page, plus an EQUIPMENT section to list all your historical effects, with room for details and a description, and photos.
Also with the "GOLD" website, you get a "banner ad" system. You get space for a few dozen fixed banner ads, plus a thousand or more "rotating" ads. A great way to raise funds! You keep 100% of your sales - it's all under your control - we just give you the website.